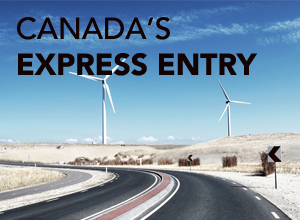 Effective January 1, 2015, Citizenship and Immigration Canada (CIC) introduced a new skilled immigrant intake system—Express Entry (EE). Originally called Expression of Interest, it is modelled after New Zealand's immigration system.
Though little has changed regarding the categories and criteria, what has changed is the application assessment and management system. As such, Canada still chooses its skilled immigrants on the basis their economic viability assessed by four main factors: language, education, work experience and skill transferability. Potential immigrants who qualify in this stream can apply as: Federal Skilled Worker, Federal Skilled Trades, Canadian Experience Class and Provincial Nominees.
The Process
To be considered for Express Entry, a potential immigrant submits an online profile in the EE pool with their personal qualifications for ranking. Based on the calculations, the profile is ranked against others in the EE pool to a maximum of 1200 points.
A candidate can obtain points in the following areas: human capital/spousal factors (500), skill transferability (100) and job offer (600). CIC will then issue Invitations to Apply (ITA) to candidates drawn from the active profile pool. Candidates who receive an ITA have 60 days to complete the rest of their CIC application. Only those who have an ITA will be able to apply for permanent residency. Candidate EE profiles remain valid in the pool until they are selected or for up to one year.
Canadian Employers
Another feature of Express Entry is candidate job matching through the Canada Job Bank. Canadian employers who cannot find suitable Canadians for their jobs will be able to hire and support a foreign national to immigrate to Canada. The EE profile also enables the applicant to search for Canadian jobs while being visible to employers looking in the Job Bank for would-be job seekers. This employment module is planned for launch later in the spring of 2015.
Existing Work Permit Holders
Under the Express Entry system, only those with ITA's can apply as skilled immigrants. Those foreign workers who received work permits through various international agreements such as NAFTA or a working holiday program will not qualify unless they have a validated permanent job offer. These foreign workers will require employer assistance in the form of the Provincial Nomination or Labour Market Impact Assessment (LMIA) to obtain the 600 job offer points for their eligibility profile. These are vetted and approved through a third party government agency, and they both have different requirements to meet. In the case of the LMIA, the employer must conduct a full scale (in Canada) recruitment for the position.
ITA Draws
The ITA pool will be constantly refreshed and continually updated with new applicant entries and hopefully the policy makers will be looking at practical considerations from different angles. CIC announced its first ITA picks for Express Entry this past weekend; those with 886 points received the invitation to move forward on their permanent residency application to Canada.
As with any new government initiative, the real life scenarios and practicalities will take time to unfold. There still isn't a lot of information available. However, it will be tougher to get a high EE score without a validated job offer. Perhaps the future draws will be adjusted to account for those who currently possess different kinds of valid temporary work permits. For now, Canadian employers will need to assist their existing foreign workers to immigrate with a LMIA or Provincial Nominee application.
Express Entry isn't the fastest way to permanent immigration for everyone, just those who have an Invitation to Apply.
Amelia Chan is the founder of Higher Options Consulting, a boutique HR and immigration firm. Amelia is a CHRP and RCIC who uses her HR and entrepreneurial experience to create practical operational solutions. She is a regular contributor to the HRMA publication, PeopleTalk.
BCjobs.ca and TheJobCentre.ca can help you with your job posting needs. Every job posted includes a customized letter confirming your posting, offering proof of your advertisement to satisfy current LMIA requirements.
Read also:
Tags:
employment law
,
legal ease