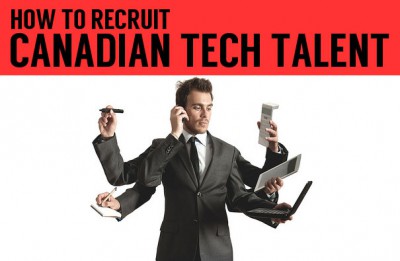 The struggle for recruiting top tech talent in Canada is real. And things are about to get even realer.
Canada has no shortage of incredible tech startups and companies. Canada based companies like Shopify, Hootsuite, and Wave are a testament to Canadian innovation, yet they face a growing challenge when it comes to hiring.
There are over 350, 000 Canadians living in Silicon Valley, a number that concerns companies like Vancouver-based Hootsuite.
According to Hootsuite's CEO Ryan Holmes, "Canada suffers from a growing shortage of computer developers and software engineers." (Source)
Yet these companies still manage to successfully run their operations out of Canada.
Hootsuite's head of human resources, Ambrosia Humphrey's explains that in order to win the war for talent, Canadian companies "have to do a better job of promoting ourselves!"
If you're looking to attract the best and brightest tech talent that Canada has to offer, you need to make recruiting a priority.
Here's how:
5 ways to win the war for tech talent in Canada
Go Niche
Local job boards, local tech organizations, and tech specific sites are the best places to find the talent you seek.
When it comes to recruiting for technology-related positions, it's quality over quantity every time!
You're not going to find quality on Craigslist.
Instead try searching tech havens such as Github, or Stack overflow. Use Canadian specific job boards, and connect with local tech organizations such as the BC Technology Association.
By focusing on these channels your recruiting will be more targeted, focused, and effective.
Know Your Stuff
Smart candidates know when the person trying to recruit them doesn't understand the job that they're recruiting for, and it's a huge turn-off.
Not only that, but an recruiter who does not understand the tech a candidate will be working with, simply doesn't have the knowledge they need to recognize a quality hire, or even ask the right interview questions!
This goes both ways though.
If you neglect the importance of HR skills in the hiring process, and choose to use a project manager, or lead developer to run the hiring process, then you're equally at risk.
Recruiters and HR understand how to conduct a proper interview, and know that there is no such thing as a perfect candidate, only the right candidate.
Make Your Jobs Searchable
Where do tech savvy candidates look for work?
You guessed it, the Internet!
If you want to reach them, then you need to make your jobs discoverable.
Social recruiting is an excellent way to recruit top tech talent, optimizing your job posts for search engines is another, and so is building an online employer brand.
Employee Referrals
Employee referral programs are the best source of quality candidates. They cut sown on time to hire significantly, and they generally have the best ROI of any recruitment process.
Thanks to social networks like LinkedIn and Facebook, your employees are still in touch with a lot of the people they went to school with.
People with similar skills.
Skills that you want your candidates to possess.
Creating an employee referral program that encourages and rewards candidates for recruiting their friends, is one of the best things you can do for your tech recruiting strategy.
Be Canadian
Tug on your potential candidate's heartstrings by appealing to their love of country.
Most Canadian's are pretty proud to call this country home. Make the fact that your company is Canadian a part of your employer branding and you'll have an emotional appeal on your side that competitors to South cannot match!
If you need a point of pride to get you inspired, remember that much of the top tech talent in the world is cultivated on Canadian soil.
In fact, the University of Waterloo is considered a top feed school for Silicon Valley, go King Warrior!
Read also:
Tags:
recruiting
,
recruiting advice
,
recruitment