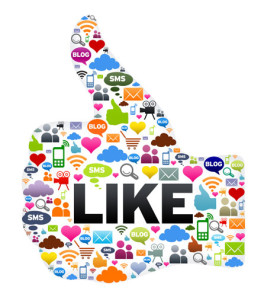 From handing in resumes face-to-face, to following up with candidates by phone, to the hologram interviews I'm convinced the future will hold, recruiting is, always has been, and always will, be about human interaction.
That's why the idea that social recruiting is new, or somehow more complex and risky than any other kind of recruiting, is a bit strange.
The medium is all that is new — the message and goals are the same. Like always, find the best way to interact with, attract, and hire great candidates.
This is why the introduction of social networks, like Facebook, actually makes recruiting less complex, more efficient and much more fun.
Still not convinced, here's more:
Social recruiting increases a job post's "reach". This means your job posts get seen by more potential talent.
As the name implies, social networks are inherently social. Unlike posting an ad in a newspaper, sharing jobs on sites like Facebook and Twitter facilitate real-time interaction.
Candidates recruited with social media have a higher acceptance rate.
Social recruiting gives you access to higher quality candidates. It grants you greater access to passive candidates and, especially with Facebook, allows you to target specific populations with your job posts.
Social recruiting does more than just fill positions. By using Career Pages on Facebook, posting jobs on Twitter, and creating recruitment-driven Circles on Google+, not only are you getting your job listings out there, you are also growing your "employer brand."
Recruiting videos, photos of company events, and public interactions with current employees can all be shared with Facebook. This strengthens your employer brand by giving candidates a glimpse into your company culture.
Candidates expect to see a strong employer brand. Your Facebook Page, Twitter and Career Site are their first impression. It counts.
With the introduction of recruitment apps, posting jobs to multiple social networks is easier than ever. You save time and money and get your jobs seen more easily, all while not having to post the same jobs over and over.
And, the most important reason to get social with your recruiting:
It's where the talent is. The number one rule in recruiting? Cast your net where the fish are. Facebook has an active user base of over 1 billion. That's a whole lot of fish.
So, there we have it. Social networks are an awesome addition to any recruiting effort. Technologies, like the Jobcast app, make social recruiting simple, quick, and effective.
Jobcast works with BC Jobs, so it's easy for you to sync your BC Jobs posts with the Jobcast app, and start using Facebook to recruit right away.
For more information about making your recruitment better using Facebook please don't hesitate to get in touch with Ryan by email at ryan@bcjobs.ca or by phone at 778-331-2122.
Oh, and stay tuned for our next post, where we'll give you some practical advice on getting started with Facebook recruiting.
Tags:
employer branding
,
facebook recruiting
,
Jobcast
,
recruiting
,
recruiting advice
,
recruitment
,
social recruiting