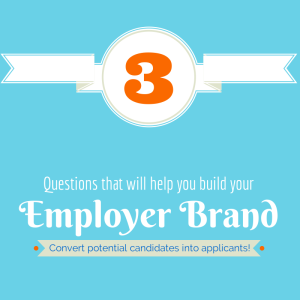 At BCjobs.ca we encourage all of our employers to spend some quality time filling out their employer profile. This is because on BCjobs.ca your profile is the first impression jobseekers will have of your company.
A well crafted Employer profile, with a high quality logo, company colors, and inviting welcome message converts jobseekers into applicants.
Your employer profile should be a glowing representation of your employer brand.
But how can you create a great profile, if you don't have a fantastic employer brand to base it on?
And, the effectiveness of your BCjobs profile is not the only reason employee branding is essential to your recruiting success, although it's probably the most important one!
There's been a huge shift in the past few years when it comes to what attracts jobseekers to employers.
It used to be that people sought out companies based on industry. According to Kortney Kutsop, an employer brand specialist at Universum:
"We've really seen a shift over the last few years where students are no longer saying, 'I'm going to work for a company because I want to go into this industry,'" Kutsop said. "They think, 'I'm computer science and I can actually work anywhere I want,' whether it's a consulting company or an accounting firm or someone like McKinsey or Google."
Today's jobseeker wants to work with a company that promotes a culture they find appealing. It is your employer branding that lets those candidates know what your company culture is all about.
The only way to win the war for talent in today's competitive market is by building an attractive, trustworthy employer brand that is in line with your ideal candidate's values.
If you haven't given much thought to employer branding, start by asking yourself these three questions:
What kind of company are you?
Google is all about fostering innovation, ability over experience, and hands-on participation from all employees. Zappos is about teamwork, customer experience, and being "a little weird"!
All the top employers know who they are, and express who they are in every aspect of their employer branding.
Knowing what kind of company you are is the first step in employer branding because is the foundation for every other brand related decision you'll make
Who are your ideal employees?
Are they highly driven, with a strong desire for advancement, and business minded? Or are they creative, on trend, and motivated by the desire to innovate?
You need to know what kinds of employees thrive at your company, to build a culture that will attract similar candidates, and keep your current team happy too!
Once you have an answer to this question you can then ask…
What do your ideal employees want?
The best way to find out is by getting some help from your best employees.
Chances are the same things that appeal to them about your organization will appeal to your desired candidates.
Find out what those things are and make them a core part of your employer branding strategy!
By asking yourself these questions, you'll quickly learn what makes your company stand out from the competition, and make your employer brand a talent magnet.
Tags:
employer branding
,
hr
,
recruiting
,
recruiting advice
,
recruitment