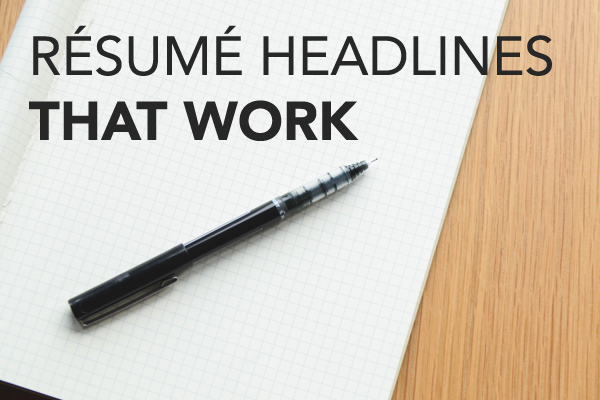 Seth Godin, author of business and marketing books and prolific blogger, recently wrote: "Headlines matter now more than they ever did. Headlines provoke and introduce. They cajole and they position. No headline, no communication. If you want to communicate (your resume, your trustworthiness, your graciousness) you need to be sure your headline is compelling, accurate and a viable foundation to the message you're ultimately trying to send."
As usual, this marketing guru is so right.
A Headline Makes Sense
Your resume is not a historical statement of facts, nor an all-encompassing catalogue of the jobs you have held; it is a self-marketing document and thus benefits from marketing strategies.
Perhaps you've never considered a headline for your resume? Replace the outdated "Objective Statement" with a headline, i.e. the title of the position to which you are applying, for example, I.T. Manager.  The job title adequately communicates your objective and assures the recruiter that your document is in the right folder.
Relate your title to the "bottom line" and you've got a winner! For example:
I.T. Manager who reliably ensures network availability and security
Administrative Assistant who keeps you organized, on time, and stress-free
Experienced ER Nurse with clean record of safety and winning bed-side manner
Sales Professional with record of exceeding sales goals … and no lost accounts!
Retail Manager ~ driving retail growth with recruitment, service, and operational excellence ~
Resume Subheadings
Although at one time we were replacing typical resume subheadings – Work History – with snazzy versions, such as Sales Ability Defined, Evidence of Legal Know-how, Teaching Excellence, that tactic is no longer recommended. The reason is the continuing trend to using Applicant Tracking Systems that are programmed to look for more typical headings, such as Professional Experience and Work History. Leave the atypical, creative subheadings for resumes that you use in person-to-person networking. (For more on this topic, read "The Resume and Applicant Tracking Systems.")
Today's resume's subheadings could flow as follows: Summary or Highlights, Skills or Competencies, Work History or Professional Experience, Education, Professional Development, and Volunteerism. Not all are equal in their need for inclusion, and I would say that the critical areas as summary, skills, experience and education.
It all depends, though! If you are a professional, you may add professional development, conferences attended, presentation, etc. If you are an electrician, you may add a section specific to electrical competencies and licenses held. A teacher could benefit from a "Philosophy of Teaching" statement, a short paragraph that defines his or her "why" and "how." And an academic would certainly include courses he or she has taught as well as publications to which he or she has published articles.
Why Strategy is Important – Now More Than Ever
Tactical winners employ strategy — they plan, position, and evaluate the how and why of projects, initiatives and communications. Using a headline is a simple strategy that ensures you stand out from your competition, instantly conveying your goal and associated expertise.
Be provocative and follow a leading marketing expert's advice, because headlines do matter.
– Stephanie Clark, www.NewLeafResumes.ca, Certified Resume Strategist who serves Canadians from coast to coast
See also: