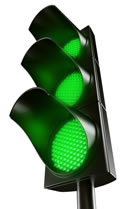 It's official…once again Dr. John Sullivan has predicted a future trend that is becoming a reality.  In June of 2009, Dr. Sullivan predicted that "within a few years the "interview from anywhere" approach will become the standard practice for all but final hiring interviews."  Here we are, one and a half years later and the number of companies that have implemented these solutions has tripled and the early adopters are using live virtual interviews as the de facto standard first step in the candidate assessment process.  If you didn't get a chance to read his article, I highly recommend it as he includes 20 "additional advantages" and in these economic times of HR having to justify every dollar spent and track the ROI of solutions, this is a fantastic playbook.
Another great article on getting HR greener is the data presented by Gerry Crispin in the January 14th, 2009 ERE post on Staffing Carbon Footprint: 1.25 Tons of CO2 Per Hire.  Gerry used carbonfootprint.com to make some calculations based on a mythical firm of 1,000 employees that hired a mix of 240 applicants.  The numbers came out to 320 tons of carbon dioxide emissions or about 1.25 tons per hire.  This does not include career fairs, onsite college recruiting or facility overhead.  Gerry explains how he reached these numbers and provides excellent examples to back them up.
The "interview from anywhere" solutions are saving candidate travel dollars and reducing carbon footprint.  It sounds like this will be the direction talent acquisition is heading.  At the Global Onrec Expo this year, two of the award winners used live virtual interviews in their talent acquisition process which supported their submissions.  ARINC won in the "Innovation in Recruiting" category and Baptist Health in San Antonio, TX won in the "Best Candidate Experience" category.  I was very interested in the "Best Candidate Experience" win, seeing that from a cultural perspective we know how important "fit" is and how we want to ensure the candidate gets to know as much about the organization as the organization wants to know about the candidate.  I was also surprised that the "Best Candidate Experience" winner was a health care organization since many people feel they are not usually the early adopters of new (HR) technology.
Even more shocking about Baptist Health's win for "Best Candidate Experience" is that their submission was specifically for physician recruiting.  If you know health care, then you know how expensive it is to recruit and secure a doctor…but we also know how much revenue a physician can generate.  In Kurt Mosley's Recruiting Trends article, he quoted a Merritt Hawkins survey that found in 2009, 25% of CEOs said the recession caused them to increase physician recruiting while only 8% decreased.  He states that the numbers can be explained by the fact that one physician on average generates $1.5 million per year on behalf of their affiliated hospital.  With revenue numbers like this, I guess it is worth the $125,000 spent in the physician recruitment process.  If using these live virtual interview solutions can mitigate part of that cost and improve the candidate experience, it looks like a sound process to embrace and the bonus is that you get to save the planet too!
Related to Get Ready To Get Greener in 2011:
Tags:
interviewing techniques