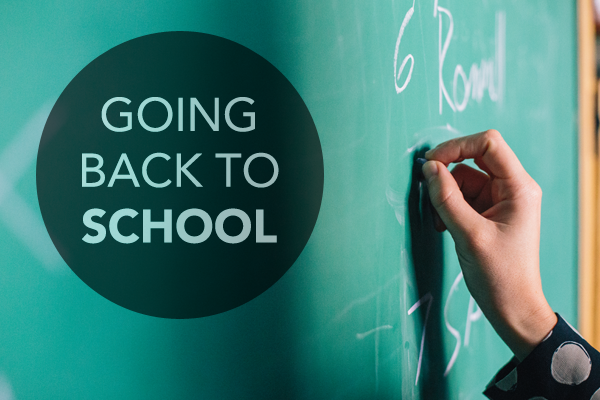 For an adult, going back to school involves a delicate balancing act. Going back to school in some form can have a huge effect on your career. Ongoing professional development is vital to your career growth, whether it involves keeping current with the latest technologies or becoming a better manager. Most of this type of learning takes place on the job, either formally through training or informally through direct work experience. Sometimes, however, continuing your education means going back to school, which can require a major investment of time and money. Because of the commitment involved, it's important to be sure you've given careful thought to your decision. Going back to school will affect your personal and professional balance. Following are a few suggestions that can help you clarify your educational goals:
Will it make a difference?
How much will a graduate degree further your career? From a monetary standpoint, it can increase your salary potential: A survey by our company showed that applicants with advanced degrees are offered starting salaries as much as 10 percent higher than other candidates. Keep in mind, however, that in many industries the most useful skills are gained in the workplace rather than the classroom. Take a look at professionals who have achieved the level of career success to which you aspire — how many of them have earned graduate degrees? Also note trends in your field — do most people have a certification or advanced education?
Can you afford it?
Going back to school can be expensive. The cost today can range anywhere from $5,000 to $100,000 to complete an MBA degree, depending on where you go and how many credits you'll need. Find out if your company will pay for your education in part or in full. Many businesses offer tuition reimbursement for relevant coursework and job training. If not, you might need to take out a student loan. Consider meeting with a financial planner to help you create a budget and plan.
Do you have enough work experience?
Most career advisors recommend that young professionals spend at least two to three years in the workforce before seeking a graduate degree. This "on the job" time can help you better formulate your career goals and, therefore, determine what — if any — advanced education is best. You'll be less likely to earn a degree that doesn't ultimately further your career.
Do you have the time?
Although you probably have fond memories of your undergraduate years, you most likely weren't working full-time back then. How will you balance your time now? Even with a light class load, you'll need to allow time for homework and out-of-class commitments, such as internships or part-time work. Are you willing to make the sacrifice — and is this the right time for you to do so?
Can you qualify for admissions?
Once you've made the decision to go back to school, it will take you about six months to prepare — more if you're lacking some of the pre-requisite courses required for the degree you're pursuing. Most likely, you'll need to spend some time studying for a standardized test, writing your admissions essay and gathering necessary documents.
Consider alternative routes.
Going back to school doesn't have to mean pursuing a formal degree — there are a variety of other options. If you decide graduate school is not for you, why not attend a three-day seminar on business writing or time management to enhance your skills? You might also consider adult education courses at a local community college, job skills training at short-term seminars or certification in a particular technology or discipline. Online courses are another great option, but be sure that they fit your learning style and provide any necessary credits.
Graduate school is a big decision: You need to map out where you want to take your career and how an advanced degree can help you achieve these objectives. Additional education may be a smart investment. It can enhance your marketability and earning power in many professions, and could give you a leg up when competing for jobs.
Accountemps has more than 350 offices throughout North America, Europe,
Australia and New Zealand, and offers online job search services at www.accountemps.com.