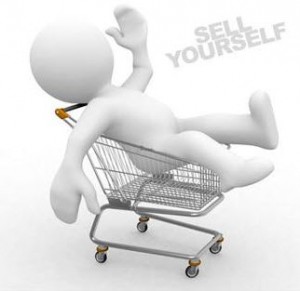 Job hunters seldom appreciate a hard truth: they are in sales. The product that each job hunter is pitching is, of course, "me, myself, and I," a hard sell for many of us!
Sales in general can be a difficult field, except for those natural born sales-types. The ones who can chat up a recluse, sell milk to a vegan, talk a crowd into buying stock in facial tissues! Sales is an art form and a science; it requires deep knowledge of human nature, motivations, emotions; it demands a fine-tuned command of the nuances of language and appreciation of subtle body language. So how the heck is a laid-off tool and die maker, for example, whose work life revolves around inanimate objects rather than chatty people, to compete in the job hunt?
Job types take their turns at being highly competitive. No matter which sector you work in, if you want to land an offer you simply must learn to sell.
Establish Credibility
As a job hunter, like it or not, you must convince the reader of your resume, or your interviewer, not only of qualifications (many applicants will be similarly qualified), but that you are the best candidate for the position.
Our tool and die maker must share how his considerable skills have led to his being requested by name when problems pop up on the production line, and how he is considered the top trouble-shooter out of the five tool and die makers at his workplace. Speaking to specifics will establish credibility, step one of successful sales.
Focus on Actual Need
Focus on what the position and the company needs. You may be proud of the fact that you returned to school for advanced training, but if you have pitched that and found no interest, don't waste time by sharing it again.
Our tool and die maker must ask about current problems facing the production line and show how he can fix those issues by giving specific details of how he has done so in the past. Sales are built on solving a problem.
Build a Relationship
Change up the usual interview from a question and answer structure to a conversation. You, too, should ask questions and show real interest. In doing so you will be creating the beginnings of a relationship, which is a key attribute most workplaces value.
Our tool and die maker could ask about upcoming line changes, whether the company has incorporated advanced organizational systems and so on. Sales are highly dependent on relationship building.
You Have Value
Job hunters usually focus on skills when they should also communicate value, another sales essential. Value is showing how you have put your skills, experience and attributes or talents to use in resolving your employer's problems or issues. No business would survive with employees who stick to the same old. Business requires constant improvements, acquiring and using new knowledge, applying advanced skills, sourcing new best practices, and getting along with the team. Our tool and die maker won't land that dream job if he's a status-quo kind of worker; the job offer will go to that go-getter.
The sales role is not an easy one: it is demanding! The job-hunter must embrace a few of the hallmarks of a good salesperson if he is serious about landing a job in a competitive market.
– submitted by Stephanie Clark, Certified Resume, Interview and Career Strategist, www.newleafresumes.ca