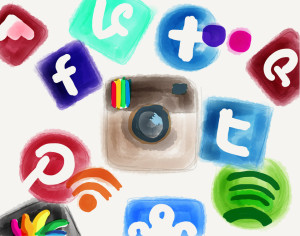 Companies who use social media, as well as job boards for their recruiting, see an increase in candidate quantity by around 50%. They also see a significant increase in quality of hire, and a decrease in time to hire!
Sharing the jobs you post to social networks is one of the best ways you can achieve similar results for your own organization.
But what networks should you use?
Well, in recruiting it's always best to go where the fish are and, according to Jobvite's 2014 social recruiting survey, the top networks for recruiting in order of candidate traffic are:
Facebook
Twitter
Google Plus
LinkedIn
Here's how you can leverage these networks to convert more candidates:
Facebook
This is where a lot of talent spends time. Not only does Facebook have the most members of any social networking service, its members spend an average of 405 minutes per month on the site.
Facebook is huge, so you must create a company Page that stands out if you want to be noticed. You'll want to brand your company Page with your logo, your brand colors, and imagery, like a custom banner.
Use your Facebook Page to give job seekers a taste of your company culture and also to share industry-related content. This will give potential candidates an idea of what your organization is all about, and encourage them to want to work for your company. It will also grow your audience so, when you post jobs, they will be seen by more candidates.
It is important to be consistent with your posts, but it is not necessary to post more than once a day on Facebook.
Twitter
When recruiting on Twitter, you should focus on using hashtags and keywords to target potential candidates. Including location information, and commonly searched hashtags, like #hiring, in your tweets is very important.
You will also want to post consistently throughout the day; otherwise your job posts will be lost in a sea of tweets!
Google+
Google+ allows users to create "circles", which means you can be selective about who sees what content. This is great for recruiting, because it means you can target your content so that it is relevant towards specific types of candidates.
For example, you can have one circle dedicated to finding employees to fill your tech-related job openings, a separate one for marketing positions, and yet another for retail. This makes your social sharing more efficient because you are only sharing content that is specific to the candidates you want to convert.
Another plus of Google + is that it allows you to connect with anyone, whether or not you have interacted with them in the past, by adding them to your circles, or creating open groups and inviting them to join. 
LinkedIn
LinkedIn is great for hiring professionals and upper management (it is less effective for younger, hourly, or blue collar workers).
The best way to use LinkedIn is by participating in group discussions, posting job openings, and sharing interesting content on your company page. You should also share your job posts on group pages that are relevant to your industry, so that they are seen by even more candidates.
It's all good!
You can choose to use only one of these networks, but you will actually get a much higher ROI if you use all four. They will all work together to increase your overall audience, and with tools of automated sharing, it takes the same amount of time to post to one network as it does to post to all of them.
In fact, it is extremely easy to set up automated sharing for all of the jobs that you post on BC Jobs. If you'd like more information about setting up social sharing for your job posts, just get in touch with us here. We're happy to help.
Tags:
hr
,
recruiting
,
recruiting advice
,
recruitment
,
social recruiting