Whether you are managing employees, looking to hire or still trying to get your head around complex employment laws, as an HR manager, the hiring process can overwhelm even the most organized of us…
Short staffed? There's an app for that
Here we review 10 HR apps for transforming stressed managers into weapon-savvy productivity ninjas during those busy periods, because your job needn't be so stressful!
1) Tribe HR $$
With multiple tools in one app, Tribe HR offers features such as applicant tracking, recruiting, performance reviews and absence management. It is suitable for small to mid-sized businesses with 250 employees or more.
The perks
It comes with a 60-day free trial
It includes great features such as 'skills tracking' where organizations can build a list of skills for each employee by position
The downsides
Midsized businesses may end up paying more for the service, since its price is based on the number of employees
Transparency of the pricing is unclear
2) IEmployee $
Available to download free from iTunes, this web-based time and attendance management app can track expenses, travel, leave and purchases whilst on the move.
The perks
It's free!
Ease of use makes training new users relatively simple
The downsides
Only compatible with iPhone, iPad and iPod touch
Limited range of features compared to other apps
3) Salesforce Labs – Employee Manager $
One of Salesforce Labs range of apps, this one is perfect for managers specifically and helps them to keep track of employee info, salary history, benefit info, unpaid time off etc.
The perks
Easy to customize for your own needs
Great for organizations with a large staff turnover, e.g. those hiring seasonal employees
The downsides
Basic design
Limited functionality
4) Workable $$
Workable is great for HR teams with multiple managers as it allows users to designate others to take over the process. Users can also attract candidates, track applications and prepare for interviews.
The perks
Extremely intuitive
Easy to organize information
The downsides
Can't include attachments on email templates
Can't link Twitter accounts to Workable
5) Job Science $$
The number one choice for those organizations hoping to boost their social profiles, this staffing and recruitment app allows users to create job listings and post onto sites such as LinkedIn and Facebook.
The perks
Easy to upload attachments such as resumes
Great customer service team if you encounter any issues
The downsides
Desktop view is easier to use than the mobile version, so may not be the best choice for managers on the move
Inability to drag and drop documents with email
6) Financial Force HCM $$
A great app for organizations looking to use technology to improve HR delivery without investing in a large system.
The perks
Free trial available
Self-driven and customizable to your organization
The downsides
This app is upgraded frequently, so features may be harder to get to grips with
Users can experience low load times
7) Effortless HR $$$
Effortless HR helps employers to manage the most important asset in their organization – their employees. This app features such as an employee portal, where employees can update information and request time off
The perks
Three flat-rate plans (no per-employee pricing)
Great range of training in person, online and through webinars
The downsides
No payroll management feature
Price dependant on size of organization
8) Zoho Recruit $$
Find the right person for the job with this recruitment-focused app.  With Zoho Recruit, you can promote job postings, publish career pages and even communicate with potential employees.
The perks
Lots of add-ons available
Easy to use – employers only need a short demo to understand its features
The downsides
Users say mass email can be difficult to set up
No automatic job alerts sent to candidates
9) Nimble Schedule $
Versatile, and easy to use, this app is great for managing the day's schedule, with a snapshot of hours and shifts scheduled.
The perks
Easy to use for both managers and employees
Great layout and extremely visual!
The downsides
Some tasks require extra steps, which cuts down on efficiency
Difficult to compare your schedule with others
10) Bamboo HR $$
This easy to use, user-friendly product can save your organization a great deal of time when it comes to managing employees. Organizations using Bamboo HR don't have to worry about maintaining records of their own.
The perks
Great customer service team and support staff
Extremely user-friendly
The downsides
Limited calendar functionality
Staff can't update their own training information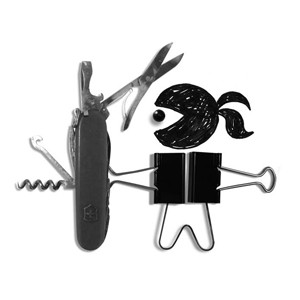 Are you a weapon-savvy HR professional? Make sure you use the right tools to keep on top of your game!
Dawn O'Connor is the Director and Master Productivity Ninja at Think Productive Canada, personal productivity and time management training company serving knowledge workers across Canada. With a team of Productivity Ninjas in most major cities, they deliver a range of stress-reducing and time-savings workshops including their most popular session—Getting Your Inbox to Zero, where participants walk away with transformed inboxes, increased focus, and a greater drive for productivity.
Ready to find some great candidates? Set up your employer account on BCjobs.ca!