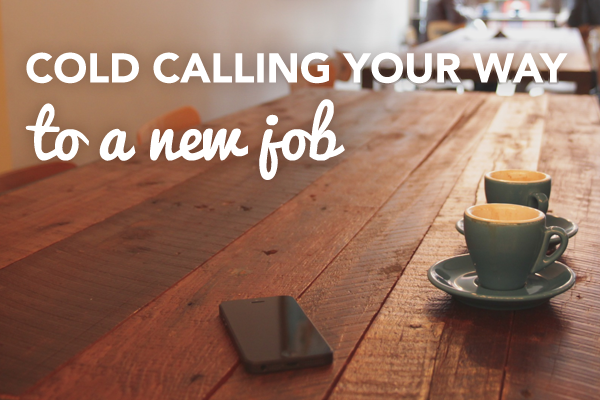 Next to public speaking, cold calling might be the scariest thing people try to avoid doing at all costs.
It can also be a very effective and underutilized method for career-minded individuals like yourself to separate yourself from other job searchers who don't think about doing it.
Why would you use such a method as part of your job search and how exactly do you use it?
A cold call is when you call someone on the phone who is not expecting your call for the purpose of getting that person to do something for you.
Sales people use cold calling to introduce themselves to potential sales prospects in the hopes that this person will buy something from them.
Recruiters use cold calling to find companies who will let them work on jobs that they are trying to fill. We also use cold calling to find job candidates for the jobs that we're working on.
You can use cold calling to speak with potential hiring managers to enquire about jobs with their company.
Cold calling 50 people on the phone is obviously more effective than visiting 50 companies in person but cold calling is one of the hardest – and most maligned – tactics that people use to get what they want. Mostly, it's because cold calling has so many negative stereotypes associated with it:
It's scary to do
It uses scripted, forced conversations that sound like a sales pitch
The fear of being rejected or not knowing what to say
Cold calling is not easy but it doesn't have to be difficult either. Plus, because the vast majority of people who are looking for the same jobs you are will not cold call employers, you can use it to separate yourself from them.
The best way to approach cold calling is to have a plan of attack before you pick up the phone. I'd suggest against totally scripting your calls because you don't want to sound like you are reading from a script nor can you actually predict exactly what the person you will speak with will actually say.
But if you have little or no experience with cold calling, what you might want to do is write out a marketing message that you will use for your cold calling to refer to when you the hiring manager answers the phone.
A suitable goal of a cold call for a job searcher is to get a relevant hiring manager on the phone and to get them to agree to meet with you in their office.
In other words, you want to get an interview.
To get an interview you will need to illustrate to the hiring manager that you are someone who solves a problem that they have and that you are in fact the ideal person to solve that problem.
Although each call will roll out differently, here are the main points you want to cover during the call:
Opening introduction: briefly introduce yourself with enthusiasm ie. "Hi, this is John Smith." Don't bother asking a question like "How are you" or "Is this a good time to talk" because it just gives the person a chance to get you off the phone.
Give a brief explanation of your work background and your level of experience. ie. "I'm a Database Administrator with 5 years of hands-on experience and I'm contacting you to enquire about your requirements for someone with my skillset."
Then follow up with something exceptional and specific that makes you stand out from other candidates ie. "I am certified on Database Platform A and B and in my most recent position, reduced database downtime by 23%."
I think it's good to pop in a quick reference to the fact that you're a job searcher, without specifically asking for a job. At this point all you are trying to do is get in front of them for an interview. That's the goal of the call. You don't want to put the person off by coming right out and asking for a job but at the end of the day, that's your ultimate goal!
No sense beating around the bush and making it seem like you're calling them to have a chat. You made the call for a purpose and that purpose is to let them know why they need to interview you.
Ask for an interview. ie. "When can I meet with you in person?"
Again, these three points may only form part of the cold call because it will really depend on what the person on the other end of the phone says in response. These three points are the main ones you want to get across during the call.
Now that you've got your script ready, you need hiring managers to speak with.
The best thing to do is to make a list of companies who are advertising for people with your skills or short of that to make a list of companies who you know need people with your skills from time to time. Perhaps you have friends who work for companies who might need your skills and they could put the good word in for you with the hiring manager before you call.
Before you start making your calls, ensure that you keep track of all companies and the contact details for hiring managers you speak with so you can effectively manage your list. You don't want to speak with someone twice and forget that you've already spoken with them. Putting an Excel spreadsheet together will help keep track of your progress.
If the hiring manager won't meet with you – and many will try to avoid this especially if they don't have a job opening currently – they might try to get you off the phone by asking for your resume instead. If you can't get an interview and have exhausted your options for arranging one, you might agree to email your resume to them for future consideration.
Finally, don't be disappointed with rejection. You might get rejected more often that not but effectively cold calling hiring managers has better odds than simply firing off an equal number of emails and waiting for the calls to come in.
Persistence is the key.
Check out our employer directory to see who is hiring!