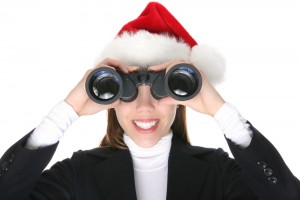 Many job hunters relax their job search schedule in the month of December. There are, however, great reasons for redoubling your efforts, while other job hunters rest and relax.
One of the best reasons to keep up a job search is precisely because so many do not. The simple act of looking at this time of year means that you will stand out.
It might be true that most companies scale back on hiring in December, but it is equally true that companies may have funding left from their annual hiring budget and look to hire in the last quarter. Those that get hired for January are those who are looking in December.
Many hire temporary help in December. The savvy job hunter knows that a temporary position can easily be extended into the new year, and may even become permanent with time.
Many people exemplify the "holiday" spirit at this time of year. Goodwill and good cheer translate into willingness to take your phone call or set up a meeting.
There are many networking events taking place at this time of year. When attending parties and get-togethers, ask folks what they do and when asked what you do, you have a perfect opportunity to introduce the topic of your job search. Again, the season may encourage helpful attitudes, paving the way for introductions to appropriate people.
This is the perfect time of year to send out a nicely worded email to everyone who has helped you. While expressing a sincere thank you for their assistance, you can also remind them of your ongoing job search.
It's also the perfect time of year to reach out to new people. Schedule get-togethers in the form of meeting for coffee or something more formal. You may choose to not use these meetings as job search networking opportunities, leaving that purpose for follow-up in the new year.
To make the most of networking, create your own great first impression with a business-style job search card. This tiny format can hold not only the required contact information, but a few key skills. It's an easy exchange when a new contact offers you his or her business card.
You're bound to hear someone say "There aren't any jobs at this time of the year." Turn a deaf ear to those comments. The hidden job market, where perhaps 80 percent of all available jobs await discovery, continues as surely as the wheels of commerce continue to spin throughout the holiday season.
– submitted by Stephanie Clark, www.newleafresumes.ca