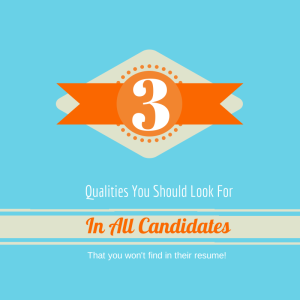 Great companies are built on great people.
Your people will dictate your organization's productivity, innovation, engagement, culture, and overall success.
Attracting, recruiting, and hiring quality candidates is an essential part any thriving business which is a huge factor in why we have this little thing called a war for talent.
There are lots of ways to win this war: better employer branding, social recruiting, and fantastic benefits packages to name a few.
But what if instead of focusing on what you can offer "top talent" to snatch them away from your competitors, you tried shifting the way you assess potential candidates' fitness?
What if you could tap into a talent pool of quality candidates that is being completely ignored by your competitors?
The qualities that make for successful hires are often impossible to assess based on resumes and application answers.
It is far too common for companies to hire "perfect" candidates, candidates who meet and even exceed all of their hiring criteria, only to see those candidates crash and burn once on the job. This is because experience, training, and education are almost never as important to a candidate's success as the soft skills they posses.
Companies like Google are famous for not caring about college degrees. When assessing candidates they focus more on a candidate's curiosity, talent, and skill than past work experience or title.
At BCjobs, we do our very best to help match employers with the best candidates British Columbia has to offer which. One of the ways we do this is by having job seekers create profiles that highlight their many skills, instead of just uploading a resume.
Our extremely popular BCjobs Enterprise package makes it possible for employers to search through candidate profiles and find those diamonds with rough resumes that their competition have overlooked!
Here are 3 qualities you should look for in a potential candidate that you won't find in their resume!
Work Ethic
Results oriented, hard working employees get things done! They also bring up the productivity of your entire team. Just because a candidate has a fancy degree on their resume does not mean that they have a strong work ethic.
Maybe academia was easy for them, maybe they work hard at the things that interest them, but are lazy when it comes to menial tasks?
Delve a little deeper into your candidates profile, do they compete at a sport? Do they volunteer at a hospital? Do they have any other side projects that demonstrate grit, determination, and the ability to complete difficult tasks? These are a few ways to find a hard worker.
Competency
You want an employee who has the right practical skills and capabilities to do their job well, the ability to learn from their peers and superiors, and the intelligence to improve and grow.
Look for areas a candidate would have to demonstrate problem solving in real life. Do they list skills in their profile that belie a certain level of intelligence? Did they coach little league? This demonstrates that a whole community found them competent enough to entrust with the care of their kids, and the smarts needed to put together a batting line-up!
Team Player
A great employee understands the value of collaborating with peers and shows up at work every day looking for ways to improve and bring positivity to the team.
Being a team player trumps positive attitude any day, because there are tons of employees who have a great attitude without any collaborative skills, but I have never met a great team player who didn't also have a positive attitude!
This is one area where I think you have to go well past the resume. Check to see that your potential hire mentions teamwork, collaboration, and the ability to get on well with others in their profile.
A candidate may be stronger in any one of these attributes, but the best candidates will demonstrate high levels of all three. Employees that do will be an asset to your company no matter what their specific role may be.
Learn how you can access over 130, 000 active job seekers, and assess candidate profiles with BCjobs Enterprise.
Happy hiring!
Tags:
recruiting
,
recruiting advice
,
recruitment
,
top talent