Since the 1990's, the digital world has made it far more convenient to find the job of your dreams. Not only can you easily research your employers online, you can watch their recruitment videos and have a video interview via tools such as Skype. With the development and growth of social media, you can now even use this to your advantage within your job search too.
There are lots of different social media platforms that can be used to aid in your job search, but the important thing is not to get overwhelmed. Stick with what you know and what you are comfortable with. There are many ways that you can use social media to boost your chances of securing your dream job, but here are 3 key pointers to help you get started:
Create your brand
There are no two ways about it, you need to treat your job hunt as a marketing campaign. Before you start conducting your search online, carry out a SWOT analysis on yourself and compare it to what you need for your dream job. This will help you to create your online profile and help you identify your Unique Value Proposition (UVP). This is your unique combination of skills, experiences, accomplishments, behavioural competencies and attitudes that create the value you can add to potential employers.
LinkedIn is considered the world's largest professional network and is the most frequented platform for recruiting, so it is worth investing some time in getting your profile on here right:
Profile photo – Choose a photo that represents the professional you. Now is not the time for a selfie! This is the first time a potential employer will see you, so it should reflect how you would look in a job interview.
Compelling introduction – Be concise in introducing your potential employer to your abilities, key accomplishments and your career goals. Take a look at how people you admire in the professional world describe themselves and a few drafts of this very important introduction before using your final version. Think of this introduction as the online advert for you.
Facebook and Twitter are also used in the recruitment space and it is worth remembering that a fifth of employers have rejected candidates because of their online behaviour. Facebook is usually the first place employers will go when deciding if you are the right candidate or not, so clean up your profile and carry out the "Billboard Test" – Ask yourself "Would you be happy for that post or picture to be displayed on a billboard for everyone to see?" If the answer is "no", delete it!
Build your audience
You have built your brand, now it is time to build your audience by connecting with the right people. Research influencers in the industry you wish to work in and connect with them or follow them. Once connected, engage with them and share their news.
Employers understand the importance of using social media as part of their recruitment strategy too and are investing in creating their online recruitment brand. They will be utilising social media channels to highlight their corporate values to attract the best talent. Check out the social media platforms your dream companies are using and engage with them. You may think that employers won't be on Instagram and Snapchat, but think again! Employers are starting to understand the potential of the untapped pool of talent that are using these social media platforms. They are using relevant hashtags and are beginning to use "My Stories" to inform their target audience of their company culture. Even McDonald's recently used Snapchat to recruit young employees. Therefore, take a look and see if your dream company is doing this and use their tactics in your social media strategy too.
There are groups, circles and hashtags that can be joined and engaged with for everything these days, so search and find relevant ones to the career you want. Here you will be able to keep up-to-date with industry news and join in the discussions. Always try to ensure that you are posting relevant and insightful posts though. You want to come across as being knowledgeable, not just someone posting for the sake of it. Remember, you are not always trying to attract the attention of those higher up the career ladder than you. Your peers will also be interested in what you have to say. They could easily become aware of an opportunity in a company, think you're perfect for the role based on their previous contact with you and may subsequently put you forward for the job.
Be engaging
It would be worth considering setting up a website for yourself, or a blog, so that you can then write insightful articles. You can then share these articles across your social media platforms. Social video generates 1,200% more social shares than text and image combined. Therefore, creating videos to share, or even creating a showreel of yourself and adding it to a YouTube channel, would allow you to stand out from all the usual posts and tweets.
Conclusion
By thinking about your career hunt as a marketing strategy, it allows you to think outside the box to help find your dream job. But don't get too carried away. Recruiters are usually looking for very specific things. 74% want to see the length of your average job tenure, 57% look for length of tenure with current employer and 34% are looking for mutual connections.
So, embrace social media as part of your career hunting strategy, get your profile right, make good connections, share compelling articles and comment insightful thoughts and then make sure your work experience speaks for itself on your CV and the job of your dreams is there for the taking.
---
About the Author: Upskilled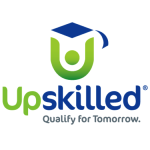 Upskilled is a leading Registered Training Organisation (RTO) that innovates the effective and efficient delivery of vocational qualifications and short courses to working professionals, job seekers and school leavers. As one of the largest RTOs in Australia, we partner with businesses and career-minded individuals to secure superior measurable outcomes. You can visit our website to find out more, or follow us on Facebook, Twitter and LinkedIn.