Retention is often discussed in sweeping terms.
We all know that high turnover is costly to an organization's productivity, morale, and bottom line.
In fact, I could easily fill an entire book with stats about the average cost of replacing an employee! but as retention costs vary significantly from industry to industry and business to business averages will be of very little use to you!
To give you an idea of what replacing an employee will cost you, here's a basic formula from Karlyn Borysenko:
Entry-level employee – Between 30% and 50% of their annual salary to replace.
Mid-level employees – Upwards of 150% of their annual salary to replace.
High-level or highly specialized employees – Approximately 400% of their annual salary to replace!
If you want to do an even more detailed analysis, Greg Willard published a formula specifically designed to calculate the cost of employee turnover on ERE.
No matter how your specific numbers pan out, I think they will still show that retention is a good investment!
The typical response, upon examining the high cost of turnover, is to try and discover what makes employees stay. This is a logical step, but it is still highly flawed.
For example, CareerBuilder's survey of 3,991 workers attempts to provide employers with an answer to their retention woes by exposing what motivates employees to stay with a company.
When CareerBuilder asked candidates what would motivate them to stay, here are the answers that they gave (they were allowed to provide multiple answers):
Increase salaries – 70 percent
Give better benefits – 58 percent
Provide flexible schedules – 51 percent
Increase employee recognition (awards, cash prizes, company trips) – 50 percent
Ask employees what they want and put feedback into action – 48 percent
Increase training and learning opportunities – 35 percent
Hire additional workers to ease workloads – 22 percent
Provide academic reimbursement – 22 percent
Carve out specific career paths and promote more – 21 percent
Institute a more casual dress code – 14 percent
CareerBuilder used the results of this study to advise that companies invest in better benefits and culture related fixes, such as flexible working hours. This advice is generally well received as it means that improving retention does not have to involve salary increases. CareerBuilder survey doesn't differentiate between workers based on performance level.
But the advice given is flawed.
CareerBuilder's survey doesn't differentiate high performing employees from average and low performing employees. If it did, it's unlikely that they would be able to downplay the importance of increased salary.
Here's why:
A high performer delivers 400% more productivity than the average performer.
So, if your retention strategy only helps you keep average and low performers, and fails to retain top performers, then it is not a very effective strategy.
Excluding qualifiers such as performance level is often justified with the excuse that top performers are more engaged and are, therefore, more satisfied with their job and less likely to abandon ship. Recent findings by SAP show otherwise: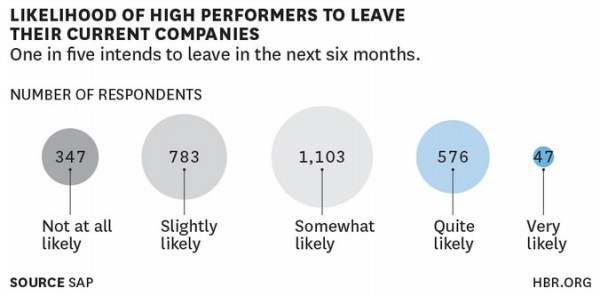 Like CareerBuilder, SAP also found that base pay and bonus pay was the top influencer on an employee's decision to stay at their job.
Unlike CareerBuilder, SAP differentiated between employees based on their performance level.
Their research shows that top performers value base pay and bonus pay significantly more than both average and low performers. Thus calling into question the idea that you shouldn't focus on monetary increases as the key to retention.
Karie Willyerd, one of the SAP study's authors suggests that a workable take away from their findings is to provide "differentiation in annual increases with significantly more variation in bonus pay for the top five percent of performers."
In other words, find a way to pay top performers more that won't create jealousy and unrest amongst the team.
Another huge contributor to top performing candidate's job satisfaction was regular feedback.
Most of the employees surveyed expressed that they expected (and desired) monthly sit-downs with managers/superiors to assess performance. Only half of these employees reported actually receiving the monthly feedback that they expected.
The implications of this are pretty clear. To retain top performers, give them the feedback that they so desire!
All things considered, even if it means increasing salaries and bonus pay, it still costs significantly less to retain than to replace.
Canadian employers, faced with an increasingly competitive hiring market, and a rise in the popularity of aggressive hire to hurt strategies, need to make retention a top priority.
To keep your best employees from becoming your competitor's top performers, an effective retention strategy with a focus on hearty bonuses and consistent feedback is you best weapon.
Tags:
employee retention
,
retention