When it comes to dev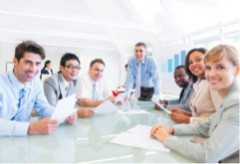 eloping their most promising employees, too many organizations are simply going through the motions, or worse yet, doing nothing at all. 
One of the main frustrations many working professionals express is their struggle to identify and connect to pathways for growth within their organization. To compound this is another central complaint that they simply do not have enough time to effectively collaborate with colleagues.  
As an employer, you're aware of the significant damage that a losing a key team-member can have. There's a far-reaching impact when they depart during a time of growth, when their expertise, perspectives, and contemporary approaches are needed more than ever. Some business leaders make the erroneous assumption that providing training and development for their key talent will lead to interest from the competitors down the street and result in attempts to headhunt them away. 
The reality is that a business is at the greatest risk of losing emerging stars and potential leaders when they don't provide the support and development their employees think they need, or don't allow people some evidence of what their future may look like within the company. 
Small to mid-market companies, who generally have limited resources, tend to rely on on-the job training, experiential learning and informal mentorship.  While these are certainly necessary components of an employee development program, the value of a shared, facilitated learning experience cannot be understated, especially for those employees who may be identified as emerging leaders within your organization.
Facilitated learning and career development workshops provide a number of key wins for a growing company. 
Here are few of the most significant:
By witnessing how mentors and senior team members receive and communicate information in the context of formal learning, standards for leadership behavior within your organization can be ingrained.
An opportunity for the sharing of opinions and expertise will allow some of your more tenured leaders (who might be struggling with the idea of stepping aside so that others can step up) to witness the potential of some of the bright sparks among your more junior staff
By including employees with different roles and mandates in the learning experience, you are communicating that consistency and transparency are valued within the organization.
Employees feel empowered when they see that their contributions make an impact on organizational goals.  Offering the experience of shared professional development facilitates this.
Learning and professional development leads to more seamless leadership transition when the need arises.  When organizations know they have the right people in the queue for key positions, they can proactively plan for the future of the business far more effectively.
Sometimes, by letting employees know they're on an upward trajectory toward more opportunities and greater challenges within your company, you assist them to more clearly define their professional future. Facilitated learning can help reinforce this message. It is a strong retention tool and should not be underestimated.
Formal or facilitated learning experiences serve to bring people together; simulating desired leadership behaviors and problem-solving approaches. They deliver insights and skill building that professionals cannot get working alone or one-on-one. They create networking opportunities and allow current and emerging leaders to see each other in action, in learning and reflecting, and sharing the lessons of experience.
In summary, it's high time that businesses thought about group professional development and formal facilitated learning as essential ingredients in their recipe for long term success.  It is not simply a bureaucratic exercise or a line item in the annual budget. It is a tool for building allegiances and understanding between your key people and fostering a sense of loyalty and commitment amongst your employees, some of whom are likely your future leaders.
"This post was written by Doris Bentley, Managing Director of Centrepoint Career Management. Find more of Centrepoint's excellent content on their blog: Centre Point of View, and connect with Centrepoint on both LinkedIn and Twitter.
Tags:
employee retention
,
engagement
,
retention