Presented by BC Jobs in partnership with the BC Tech Association, Talent Days are opportunities to connect the right people with the right companies, and we love hearing about how tech professionals have made moves in their careers because of these events. Check out this Talent Day Success Story, highlighting a tech professional who found an amazing new role, as well as the great company they met at Talent Day!
Kostia Vasylenko recently relocated to BC after completing a post-graduate program in Ontario and had been looking for developer roles when he found out about Talent Day. At the event, he connected with Traction on Demand, where he learned more about their amazing culture and the career opportunities they had. Kostia took the time to share more about his Talent Day experience with us – keep reading to learn more!
Please describe your experience at Talent Day.
Kostia: The experience was extremely interesting. I was able to meet with a wide variety of HR professionals from some really amazing IT companies. At first, I found the speed interview process to be a little overwhelming and challenging. After meeting with a few companies, I got the hang of things. It was an efficient way to expose myself to the market. In the end, it led me to my dream job and career path, so no regrets! I would definitely recommend people work on their "elevator pitch" prior to the event.
What it was like to network and connect with great companies like Traction on Demand?
Kostia: It was awesome to learn a bit more about 15 local and international companies that operate in the Greater Vancouver Area. Some of the companies from that day became clients of Traction and I occasionally bump into others at tech events downtown.
Now that you've been able to find an awesome new role from Talent Day, what is life at Traction on Demand like?
Kostia: Traction is wicked! We have a 'Git 'er Done' culture where people support each other and give back to the community. Every day, I'm surrounded by very smart, hardworking people. It feels like I grow professionally by the minute. This environment forces you to continually learn, grow and develop. Tractionites also know how to have fun! We have summer and winter retreats, ride o'clocks, summer bbqs and community events. Traction is a community that I feel so proud to be a part of.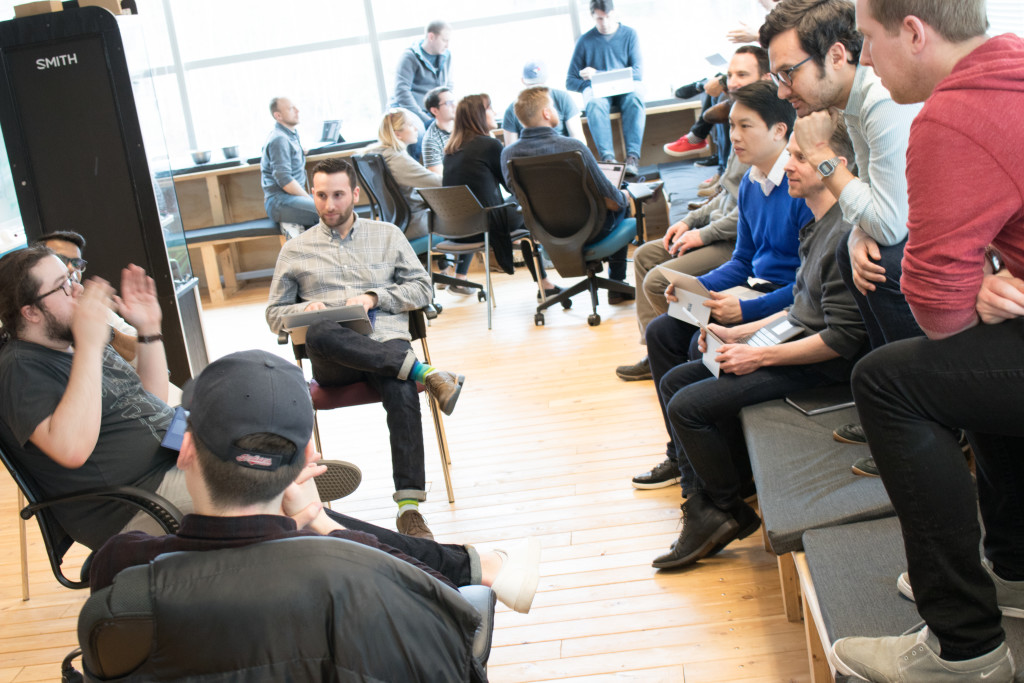 What does Traction on Demand have to say about Talent Day and life as a Tractionite? We were able to hear from Anthony Azar, Talent Specialist at Traction on Demand and one of our Career Experts, and this is what he had to say:
What was your experience at Talent Day like while representing Traction on Demand? 
Anthony: Talent Day gives us the opportunity to connect with a variety of great talent – often those who are new to the market – that have a variety of technical skills. We really appreciate the opportunity to get to know candidates in-person and chat with them about the great things that are happening at Traction on Demand.
What do you look for in candidates when you're hiring?
Anthony: Traction on Demand's hiring philosophy is based on culture, intelligence and then skills as we think that if someone is a great culture fit and has the aptitude to learn, then they can pick up many of the skills they might be missing. Salesforce.com talent is quite rare in Canada and so it has always worked better for us to look for great people to train, as opposed to searching for ramped salesforce.com talent. We are interested in people who want to join an active community of engaged individuals who see business as more than just a vehicle to make money. We care about our people, wider community and planet.
If you'd like to learn more about Traction on Demand, be sure to visit their website. If you're interested in all of the career opportunities they have available, check out their profile on BCtechjobs.ca.
Want to connect with the team from Traction on Demand? Be sure to keep your eyes peeled and join us at our next Talent Day! Come prepared to make an awesome impression, and you might be one of our future Success Stories!
Tags:
bc jobs
,
BC Tech Jobs
,
bcjobs
,
BCtech
,
career
,
events
,
networking
,
success story
,
Talent Day
,
tech company spotlight
,
tech professional profile
,
Tech Talent BC
,
tech talent meetup