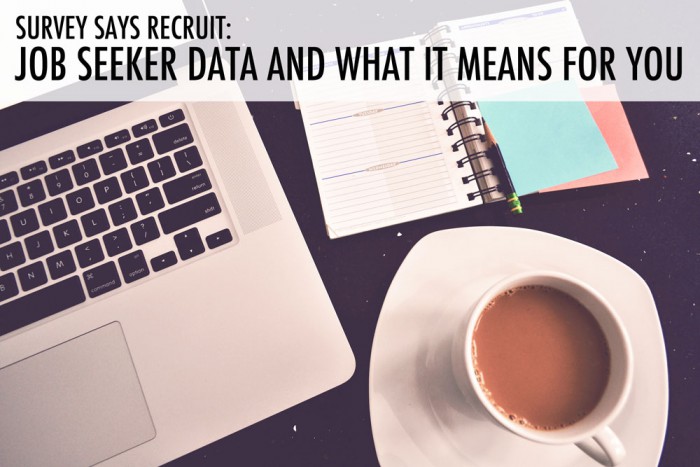 With the ever growing wealth of data available to us, it is no surprise that the future of hiring is data driven.
Data driven hiring is a powerful concept, but it can be extremely difficult to actualize.
Having access to massive amounts of data can work against employers and recruiters by making it increasingly difficult for them to extract information that is relevant to them from all the rest.
Once found, the relevant data must then be understood and applied to the recruitment process.
The process can be intimidating to say the least!
Luckily, when it comes to external data, we are lucky to have access to some excellent reports and surveys.
This article will share some of the most important new findings about the state of the labour market, the recruiting industry, and employer branding by Jobvite, Career Builders, LinkedIn, and Work BC's most recent publications.
Trend: War for talent is heating up
All over the globe reports are showing that recruiting qualified candidate's is getting harder and harder. 77 percent of Jobvite survey respondents expect increased competition for talent, which makes sense considering that 67 percent of them also said that they plan to increase hiring during the next 12 months.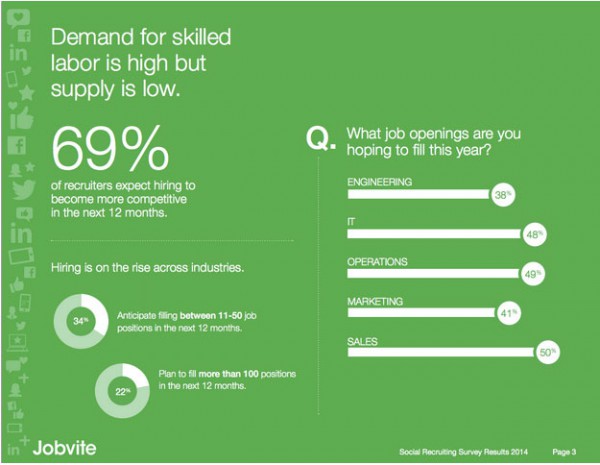 In Canada specifically unemployment is down, and the amount of positions that need filling is up (Job Bank Canada), and employers are lamenting increased time to hire and the decrease in productivity due to unfilled positions.
The Takeaway: Go on the offensive
Recruiters and employers are meeting the challenge by becoming more proactive and you may wish to follow suit. According to Jobvite 61 percent of companies intend to recruit from competitors in the year ahead, so consider tightening up your retention strategy and increasing your focus on recruiting passive candidates.
Trend: Social recruiting gaining popularity
Jobvite's survey found that over 90% of employers are using social media to recruit in North America and according to SHRM social recruitment adoption has increased by more than 20% since 2011.
This means that competition is higher than ever for engaging passive candidates and social job seekers.
The Takeaway: Step up your social recruiting game
It is no longer enough to simply tweet your jobs! If you want to beat your competition you must diversify your social recruiting.
73 percent of recruiters are planning to increase their investment in social recruiting in 2014, so throwing money at your social strategy isn't the answer.
Instead, get smarter with your social.
82 percent of recruiters feel their social recruiting skills are proficient or less, so make yourself and your team part of the remaining 18%.
Social media training and experimentation, combined with a multi-channel social recruiting approach will give you the boost you need.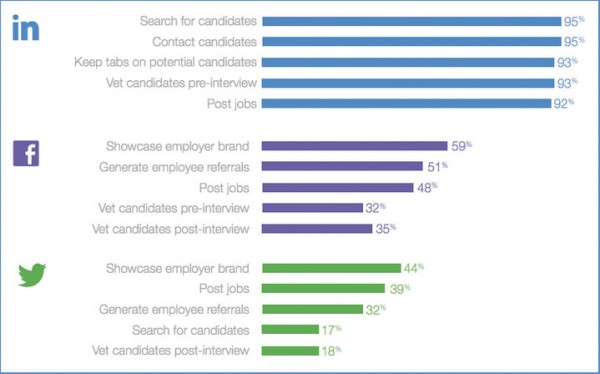 64 percent of surveyed companies use at least two networks in their recruiting efforts, and 40 percent use three or more. Different social networks fill different recruiting requirements, so it is important to step outside of the LinkedIn box and experiment with the different networks available to you.
For more on social recruiting check out BCjobs.ca social.
Trend: There is a disconnect between recruiters and job seekers
Job seekers are increasingly using mobile to search and apply for new jobs, but most companies career sites are not mobile friendly.
LinkedIn is the most popular social network amongst recruiters, but job seekers consistently report a preference for Facebook.
These are just two examples of how out of synch recruiters are with the job seekers that they wish to attract.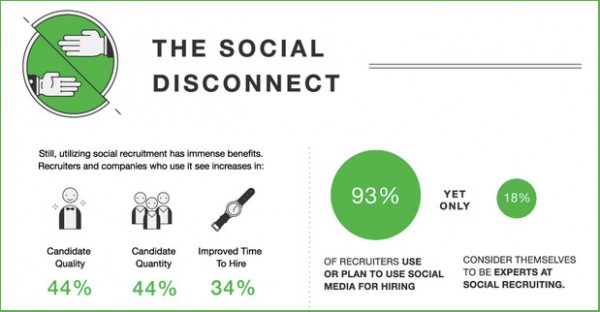 The Takeaway: Focus on the candidate
To get on the same page as the talent you want to attract, create candidate profiles. You can then structure your recruitment efforts around the candidate and make your hiring strategy about appealing to their needs.
Data is a powerful tool for hiring, use it well!
Read also:
Tags:
recruiting
,
recruiting advice
,
recruitment