BCjobs.ca has launched the Sales Talent Meetup group and on September 14th, we held a panel on Sales Must Haves, discussing how to advance your career in sales and business development. We were joined by a group of motivated sales professionals who came to hear sales leaders from leading #BCtech companies.
Our panel was moderated by Shane Gibson, co-founder at the Professional Sales Academy, who also shared his experiences and insights on sales. Our hosts for the evening were the team from RED Academy, showing off their Vancouver campus.
Joining the panel were…
Mark Spence, Director of New Business at GroupHEALTH Benefit Solutions
Chris Koch, Sales Manager, West at Vidyard
Rich Workman, Sales Manager – Channel West at Sophos
During the discussion portion of the night, these experts shared their own experiences in sales, what they look for when it comes to adding to their own sales teams, and their tips for sales professionals looking to further their own careers. While our panel members were there representing tech-focused companies, their insights were widely applicable and valuable to sales professionals in all industries.
The discussion was followed by a networking session, where our attendees had the chance to meet both with our panellists and more professionals looking to advance in sales. It was a fantastic chance to connect, learn more about the opportunities ahead of them, and get more information on each of these leading employers.
If you're a sales professional who's looking to make the next move in your career, whether that's through learning and development opportunities or finding new job opportunities, don't miss out on future Sales Talent Meetup events! Our next event will be a Sales Talent Day taking place on Thursday, October 26th at the Brainstation campus in Downtown Vancouver.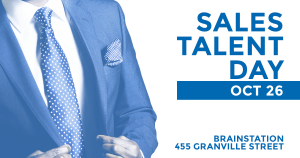 Do you have an idea or suggestion for future events? Be sure to reach out to us at [email protected]!