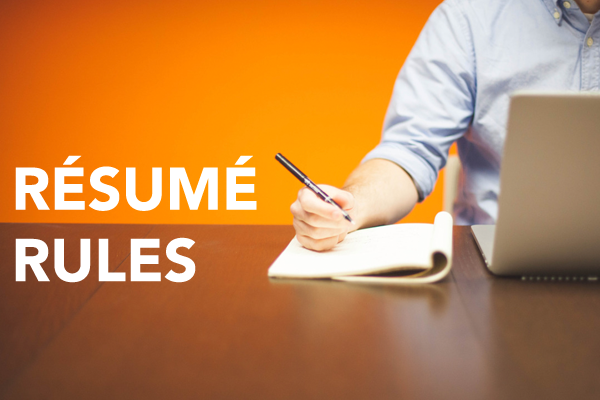 Admittedly, rules serve a purpose, and in the recruitment game, rules keep applicants on a more or less level playing field: everyone has a more equal opportunity with a few rules. That's why there are closing dates, a job posting to guide your and your competitions' resume content, and a certain method in which to apply (no calls please, those not following submission guidelines will be discounted, and so on).
But sometimes so-called "experts" love to add their own version of resume rules. You've read these rules on the internet, with article titles that hint at disaster if you don't heed the advice.  "Ten Things Your Resume Must Have," or "Three Things Your Resume Likely Has that You Must Remove – Immediately!"  Advice can be confusing and even contradictory.
What is a job hunter to do? Who to listen to? How to evaluate conflicting advice?
The confusion might leave you feeling frozen and nothing at all gets done. You continue to use the same ineffective resume that you've used for years. It's "groundhog day" in resume-land.
Job hunter, let me lead you through evaluating bad advice, conflicting commands, and mixed messages!
There is no perfect resume
That's right. There is no one resume style, format, or approach that will work for all applications all the time. The reason is quite simple: people are at the receiving end and each recruiter has his or her own idea of what constitutes a "perfect" resume. Ask colleagues, friends, family and neighbours for their input as well, and your resume is more likely to confuse than impress.
Rather than obsess about each person's advice, once you have a resume that you are proud to share, accurately reflects what you have done as it relates to the position applied to, and connects the dots between your performance and results, know that you are on your way to landing an interview.
Who sets these "rules" anyway?
There is no governing body in resume-land, no one hiring authority that lauds it over all others. The experts who speak with authority are not always true experts; it is up to the reader to evaluate. A few points to consider might be: What are this expert's credentials? What industry does this expert work in?  How long has this expert been in business and is there proof that his or her advice works?
BCJobs carefully selects the information posted on its site and has earned its reputation as a trusted resource as demonstrated by the credible employers who select this site to seek out potential hires.
Rules to throw out
Font styles can go beyond Arial and Times, but they should be standard, widely used fonts. (An internet search of "common fonts" will give you a list of a font's percentage of use.) Be sure a human can read it. I once reviewed a resume that used an italic font throughout, making it tough to read  and forcing me to give up within two lines … and I am certain recruiters would give up as well ; after all, they have lots more to choose from!
A resume's length depends on the person's career! An arbitrary one-pager doesn't make sense for many people. (You could create a one-page career "teaser" full of accomplishments, testimonials and so on, to use in networking, for example.)
A rule of thumb is that for every decade worked, you'll need approximately one page. And we only go back 10 to 15 years on most resumes these days as prior experience tends to lose relevance.
It's really about strategy
Many resume-related decisions depend on strategy. If you're in a creative field, a phenomenal graphic resume works as an email attachment or a hand-delivered document. But you'll also need a plain resume to submit online. (See more on this issue below and in-depth in the article, "The Resume and Applicant Tracking Systems.")
Colour, once often recommended, is now a non-issue as most applications are e-based these days sent via email or through an internet browser rather than hand-delivered. (If hand-delivering a paper copy, a good quality, heavier stock of paper in white or ecru would suffice.)
What about Applicant Tracking Systems?
More and more companies are using Applicant Tracking Systems, or ATS, to parse and score resumes. This software cannot read between the lines, and cannot read information in graphs, tables, text boxes, within pages that have borders added– truly your resume is best if it is plainly formatted. There are more than 100 variations of ATS and I suggest that erring on the side of caution is the best strategy.
My two rules
I work with only two rules: truth and authenticity. No details are "fudged" and all info accurately reflects experience, skills, and credentials. No lying; no exceptions.
Likewise, the person's methodology, attributes and strengths must also be authentic. No point in pretending you are detail oriented when you're about the big picture strategy, or that you are outgoing when you are an introvert. It's always best to portray a genuine snapshot of yourself as that will lead to a better hire, benefiting not only the employer, but you as well.
Your resume's effectiveness will depend on strategy, not on following opinions masquerading as rules.
If you're struggling with a resume rule that confounds you, send me an email – [email protected] – and I'll send you a reasoned response.
GET NOTIFIED! Sign up for job alerts so you don't miss out on your perfect job opportunity.