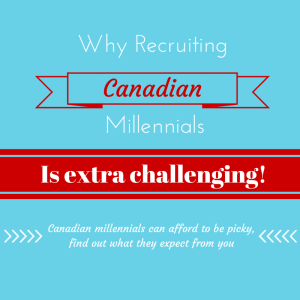 There is a common misconception that all millennials can't afford to be choosy when it comes to looking for work because they will be the first generation to be worse of financially than their parents.
According to Beacon News, this popular notion, although possibly true for our neighbors to the South, is completely false when it comes to Canadian millennials.
"Canadian millennials looking for a job have a 93 per cent chance of finding one"
In fact, according to a recent study by BMO Capital Markets, Canadian millennials have greater job prospects, and earn more on average than the previous generation.
So what does this mean for you?
More job prospects mean that Canadian millennials can afford to be picky about their potential employers… Or should I say, even pickier than they already were!
You have probably noticed that millennial job seekers have the mindset that they should choose their employer, unlike previous generations who did not question that it was the employer who chose them.
Millennials are also much more empowered to be choosy because, due to their ability to Google any potential employer, they have a massive amount of information available to them about a company's culture.
This younger generation of candidate (self included), expect to be able to interact with potential employers via Twitter, view job postings on Facebook, and view YouTube videos that show what it is like to work for your company.
Canadian millennials also have different values than previous generations, they value flexibility and challenge over salary. They also highly prize the ability to grow, advance, and learn at work… This may be a side effect of their so called "millennial ADD"!
Once hired, millennials tend to expect more from their supervisors, especially when it comes to verbal feedback, and engagement.
The 2014 Trends in Global Employee Engagement from Aon Hewitt found that millennials are the least-engaged generation in the workforce; this is not because they do not want to engage! It is because their employers do not know how to engage them.
Company's underestimate just how different millennials are from previous generations, or even worse, they are confused about exactly how millennial differ from previous generations.
For example: many older managers have the misconception that millennials are lazy because they often struggle more than boomers when it comes to completing menial/boring tasks.
What managers often fail to recognize is that this shortcoming has much less to do with laziness (generally lazy employees aside, as, let's face it, every generation has its sloths), and more to do with a feeling that the task is of low importance.
Correcting this mindset by explaining how the task at hand relates to the overall success of the company and giving details as to why exactly the task must be performed will give the millennial candidate the sense of purpose she craves.
Another issue that arises when companies do not take into account the difference in needs and expectations of Canadian millennials is poor candidate experience.
Millennials expect online recruiting, transparent company culture, and a visible employer brand. They also expect the entire application process to be social and mobile!
Next week's article will explain the importance of your employer brand, engagement, and social media, when it comes to recruiting young Canadian talent.
Tags:
hr
,
recruitment