We've all heard how important portraying a professional presence online is, however what you don't hear about is how many jobs are lost solely because of a unprofessional or weak social presence. Without any sense of exaggeration it can be said that social media is a necessity in today's job world. It's important you have profiles built-out to show off who you are, your achievements and job history. Being inactive on social media will, in many cases. jeopardize your chance at getting your dream job.
Careerbuilder's great infographic demonstrates just how many employers actively look at their employees or future employees social media accounts. The numbers speak for themselves in this case. When done right, social media platforms can be a major help in getting noticed and eventually soliciting offers. While Facebook and Twitter are popular, it's important your presence doesn't end there. Being well-rounded, and at least having built-out accounts with several other sites is helpful.
While there are obvious no-no's on social media, simply taking an hour or two to accurately build-out a profile is easy and beneficial. It's beneficial because it populates Search Engine Results Page's (SERP) when your name is queried, and it's easy because many sites draw off other and therefore don't force you to enter much additional information.
To help job seekers better understand the role of social media in their job search,CareerBuilder.com conducted a survey last year that asked 2,303 hiring managers and human resource professionals if, how, and why they incorporate social media into their hiring process. This survey came back with results that showed direct correlation between active social media users and success in job hunts. In some cases it was that the employer got a good feel for the candidate's personality. Others chose to hire because the profile conveyed a professional image. In some instances it was because background information supported professional qualifications, other people posted great references about the candidate, or because the profile showed that the job seeker is creative, well-rounded, or has great communication skills.
A big thing that many employers look for is consistency. Listing your accomplishments and profession on Linkedin isn't good enough because some employers may only look at Facebook. Having a consistent message and imagery across your social media presence will make life easier on your potential suitors, as well as on you as you won't need to reinvent the wheel for each social media profile you build.
Overall, social media isn't brain surgery. All it takes is a few focused hours and a goal in-mind. It's best that you simply sit down and map out where you'd like to go with your career and build your profiles with said goal in mind. Also, make sure you maintain a clean profile, instead of just cleaning it up when the time comes you think that they'll be analyzed. In this digital age, you just never know who is looking at your profiles when, so it's best to be safe rather than sorry.
Scroll down for Careerbuilder's awesome infographic: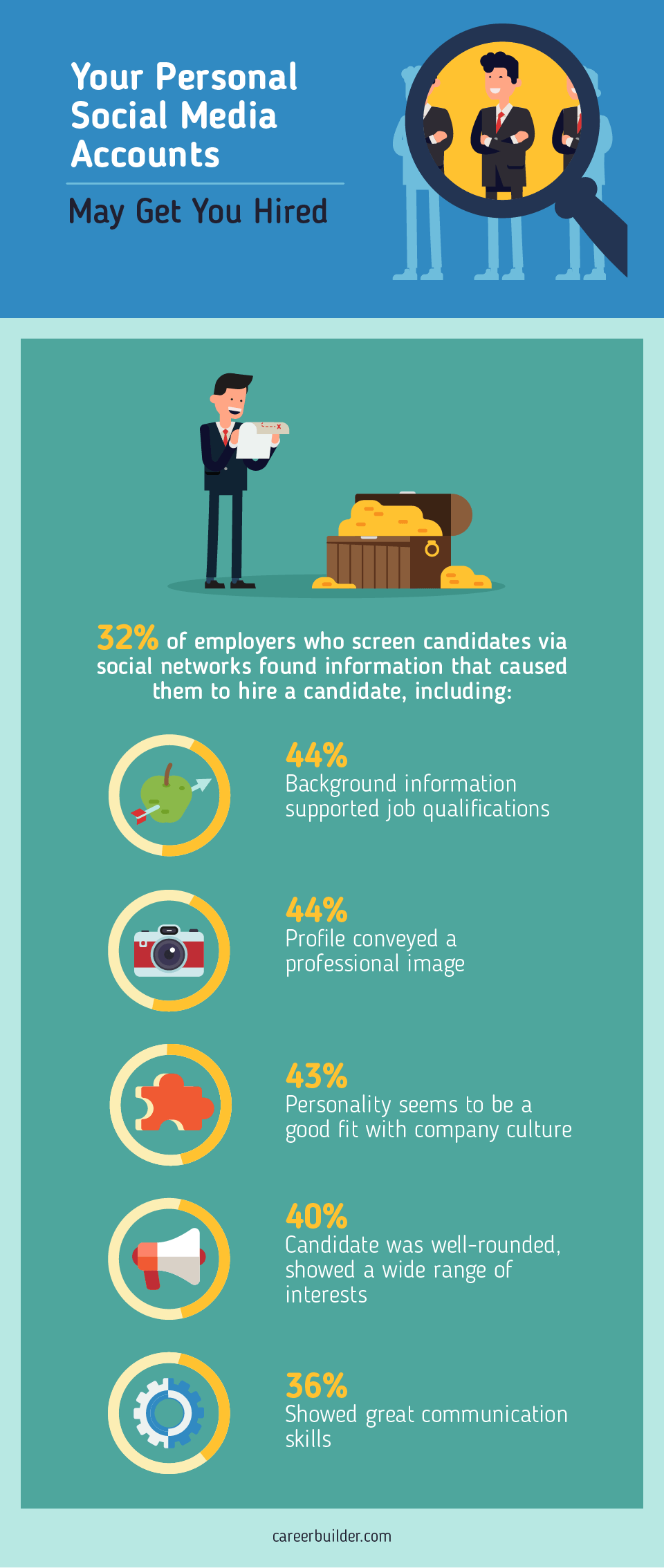 Tags:
jobs
,
qualifications
,
social