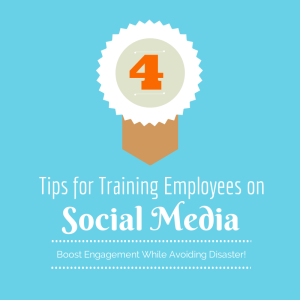 Social media has become a mandatory part of growing a business, connecting with clients, and engaging potential hires.
One of the key ways to grow your social media efforts and employer brand is by getting your employees to participate in your strategy and become online ambassadors for your organization.
Doing so will improve your reach, give your company social proof, and lead to improved overall engagement amongst your staff.
But, letting your employees lose on your social networks without preparation is a disaster waiting to happen!
Here are 4 tips for training employees on social media:
1 – Create a Plan
Every good training program starts with an assessment. Your assessment should determine what your current social media status is, what your training goals are, and nail down a clear social media policy.
The more you time you spend planning, the less time you'll waste with unnecessary training and, more importantly, the more likely you are to prevent any future gaffs caused by lack of education.
Check out Cisco for a huge list of free online social media training courses, just be warned, these courses take forever to download!
2 – Train Early
Make social media training a part of your onboarding process.
Send new employees a copy of your social media policy right away, make social media training a part of their job training in general, and make sure to explain how much your company culture emphasizes social media engagement.
Making social media training a part of the process from the moment a new hire walks into your office will show them that it really is a priority and not just talk.
3 – Train Often
Social networks are constantly shifting, growing, and changing.
This is extremely frustrating for those of us who work in the industry, and anyone looking to train others on how to properly use social media. It is manageable though, I promise!
In fact the ever shifting nature of social can be a great reminder of how important training updates are to staff engagement, improvement, and satisfaction.
Your refreshers don't have to be long. Schedule a 45 minute meeting to go over any major changes to the social networks you use, your company policies, and your social strategy goals.
Another great way to handle social media refreshers is by putting employees in charge. I'm sure many of them are extremely active online; encourage those employees to keep everyone up to date about any relevant changes they notice, or great tips they pickup.
4 – Use Incentives
Your training program should offer three major rewards for those involved. Knowledge, recognition, and fun!
If you really want to make your employees love you; add gift cards to that list.
Social media is fun, that's why so many people spend so much of their time staring at their smart phone. Your training process should be enjoyable for employees, keep the mood business casual. I.E. make it clear that they need to take your message seriously, but that social is about play, experimentation, and, well, being social!
Give them real, honest, valuable information. This may mean bringing in an expert, or doing some thorough research of your own, I suggest you enlist some of your millennial staff to help you with this.
Show them that you appreciate their time and that their enthusiasm and participation shall not be forgotten come evaluation time.
Closing with a quick contest, such as: who can come up with an awesome bio for your company Twitter profile, or excellent post for your Facebook Page, is a great way to end on a high note… And get some new content while you're at it.
Reward the winner with a gift card for the cafe next door, snap a picture of them receiving the card, and Tweet it. Everyone's happy!
Happy hiring, training, and Tweeting.
Tags:
recruiting
,
recruiting advice
,
recruitment
,
social recruiting