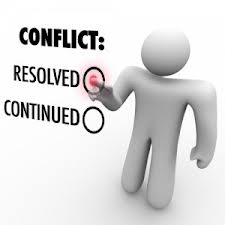 If you are like many managers in the workplace, you probably spend a great deal of your time managing "people problems."  Unfortunately, it is a sad reality that few managers deal with conflict appropriately.  No one really 'likes' conflict but to completely attempt to avoid it may actually create even more.
A number of years ago, a very dear friend of mine (who has significant credentials in dealing with conflict management), gave me four simple steps in how to resolve disputes.  I have used the steps many times over and can attest to the fact that they frequently work successfully.  While conflict is not an easy thing to manage and there really is no 'fail-proof' method for dealing with it; having this knowledge should certainly help.
So, what are the steps?
Confront the behaviour – call the employees involved into your office.  (If there is a department in conflict, call in the supervisors.)  Let them know how unhappy you are with the behaviour and that you fully expect things to turn around.  Be clear in identifying what the poor behaviours are.
Talk it out – let them know that you expect they will listen to one another to work out a solution to the conflict.  Remind them they are professionals and they are here to work.  Let one employee begin by explaining his/her issues.  Tell the other party (and tell yourself the same) that he/she must listen.  Once the first person has finished speaking and addressing the issues at hand; allow the other employee to do the same.  The main benefit to doing this is that you are an outside party and that makes it more difficult for one party to misrepresent the issues.
Hold the employees accountable – now that the two of them have had the chance to talk things out; let them know that you have confidence in their abilities to work things out.  Tell them you expect a plan from each of them as to how they will move forward and possibly deal with any problems in future.  You must give a time limit on this plan and reconvene so they can show you what they have come up with.  2 – 3 days is best.
Follow up and follow through – this is probably one of the most difficult pieces for managers.  We're all busy and it's easy to think that you have rectified the problem once you've seen their plans.  Hold short weekly 'check-ins' to ask each employee, in front of the other, how things are going.  This ensures they remain accountable for the new behaviour and it relieves you of the 'policing' role.
As you see positive behaviours, recognize them.  Let employees know that you are proud of the example they are setting for other employees and the demonstration of proessionalism.  On a broader scale, this not only reinforces the positive behaviours; it also sends signals to others in the organization that you encourage and model a cooperative culture.
Fairness is very important in this whole process.  Beware that one or both of the employees may try to work his/her way back into your good graces and try to sway you to his/her side when out of earshot of the 'problem'.  Do not let that happen – ever – because if you do; you inadvertently give the impression that you favour one over the other.
Last but not least; give the process time.  Things such as conflict in the workplace do not go away over night.  You must be diligent in your follow up until you are satisfied that the employees are willing to work with one another professionally.
As a final note; I want to be clear about the fact that I am speaking to unwanted conflict here; because I also believe that some conflict is healthy. It helps us to be more creative, willing to share ideas and concepts, and that will ultimately help an organization grow. However, not dealing with conflict that can be destructive will cost an organization in terms of morale problems, lack of respect around leadership, and most definitely can lead to a toxic environment.
I believe this is an area of concern for most HR professionals in that they are frequently called upon by managers and employees alike, to guide others through conflict – so any other suggestions or ideas would be welcome. Please feel free to share!
Tags:
employee retention