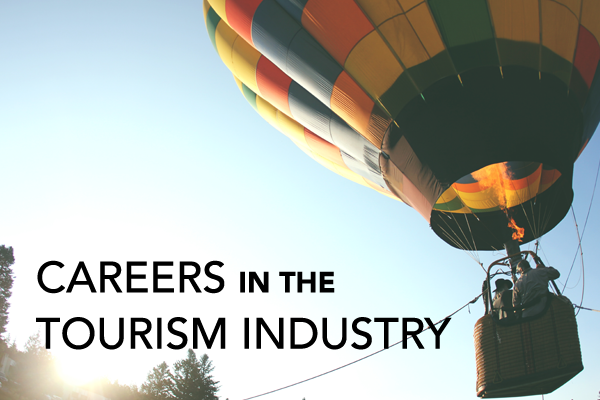 Tourism is a diverse industry which offers long-term career opportunities for enthusiastic individuals who want to put their education and skills to work in various environments. People in tourism may work indoors or outdoors, standard hours or on a flexible schedule, seasonal jobs or all-year-round. It's one of the most exciting and diverse career paths out there.
What Is Tourism?
The tourism industry can be divided into five career areas: accommodation, food and beverage services, recreation and entertainment, transportation and travel services. All of these areas involve providing services to people who visit BC from other parts of the country and the world.
What Kinds of Careers Are Available in the Tourism Industry?
From operational positions to management and executive-level responsibilities, you'll find opportunities for solid training, knowledge and skill development along with unlimited career growth. The tourism industry also offers a unique environment for those who wish to start their own business.
Operational Positions
These usually involve direct contact with tourists and are often the first step in a lifetime career. Sample jobs include:
Ski Repair Technician
Bartender
Concierge
Adventure Tour Guide
Cook
Sales Coordinator
Supervisory Positions
These people hire, manage, motivate and schedule operational positions as well as provide key functional expertise. Sample jobs include:
Guest Services Supervisor
Ski Patrol Supervisor
Event Planner
Restaurant Shift Supervisor
Team Leader Accounting
Maintenance Supervisor
Management Positions
These positions involve budgeting, analysis, planning and change management in order to help employees and the organization to grow and prosper. There may also be interaction with other tourism sectors and community involvement. Sample jobs include:
Director of Sales and Marketing
Head Chef
Ski Area Manager
Rooms Division Manager
Adventure Company Owner
Attractions Operations Manager
Executives
Executives are often responsible for several departments or divisions and usually work at a regional, national or international level. They are responsible for strategic planning and have significant budget responsibility. Sample jobs include:
Hotel General Manager
Regional Manager of Restaurant Chain
Vice President of Human Resources
Tour Company President
Convention Centre Executive Director
CEO of Destination Marketing Organization (e.g. Tourism British Columbia)
There are also many opportunities for entrepreneurs in the tourism industry. Whether you're looking to open a resort, an eco-tourism outfit, an adventure operation or a bed and breakfast, the incredible growth of tourism in BC means plenty of business opportunities for the entrepreneurial minded.
How Much Will I Make?
Salary ranges in tourism jobs depend on the type of job you're doing, the amount of education and training required, and your experience level. Keep in mind that many people in tourism careers also make tips on top of their salary. Also, 77% of BC tourism organizations offer extended health care, 74% offer employees life insurance, 73% offer long-term disability and 81% offer dental care.
Here are a few sample average wages for various tourism positions in BC:
| | |
| --- | --- |
| Hotel General Manager | $40,000 – $90,000 / yr |
| Accommodations Service Manager | $36,601 – $59,160 / yr |
| Executive Chef | $45,000 – $71,386 / yr |
| Director of Sales and Marketing | $48,580 – $80,000 / yr |
| Executive Housekeeper | $34,000 – $50,000 / yr |
| Banquet Server | $9.00 – $13.74 / hr |
| Concierge | $13.77 – $17.46 / hr |
| Front Desk Agent | $10.25 – $17.31 / hr |
| Guest Service Attendant | $10.25 – $13.50 / hr |
| Housekeeping Room Attendant | $10.25 – $16.75 / hr |
Want to know more? Click here to check out tourism jobs in BC.
See also: