Recently, ABODO (rental apartment classified site) did a study on the best and most affordable cities for healthcare jobs in the United States. "Over the years, we've found that one of the most important aspects in a lot of city to city moves is employment opportunity," said Sam Radbil, Sr. Communications Manager.
Glassdoor's recent report on the best industries for employment in 2017 revealed that healthcare is the hottest industry in the U.S., accounting for nearly 20 percent of the economy's open jobs.
"We set out to uncover where people can find the best jobs in one of the fastest growing industries — healthcare, while still being able to afford to live in the city they choose," Radbil told us.
ABODO's goal with the study was to  uncover the cities in which healthcare professionals can find the most job opportunities, while also being able to find an affordable apartment. Their formula analyze healthcare job openings, median salary, and median rent price for 1-bedroom apartments in each city to determine the best cities for healthcare pros.
The most striking elements of their study were:
Durham ranks as the top city for healthcare pros, with 99.4 jobs out of every 1,000 in healthcare.
San Francisco owns the worst ranking, with the highest median rent ($3,499) and lowest healthcare job concentration (35.9 per 1,000).
Toledo, OH; Detroit, MI; Cleveland, OH; Lubbock, TX; Birmingham, AL; Winston-Salem, NC; Philadelphia, PA; Lexington, KY; and Tucson, AZ make up the rest of the top ten best cities for healthcare professionals.
Part of the reason that Durham-Chapel Hill is a top area for healthcare professionals is that the area is in close proximity to the "The Research Triangle," which is home to three major universities (Duke, UNC, and NC State), one of the country's largest research centers, and UNC Health Care.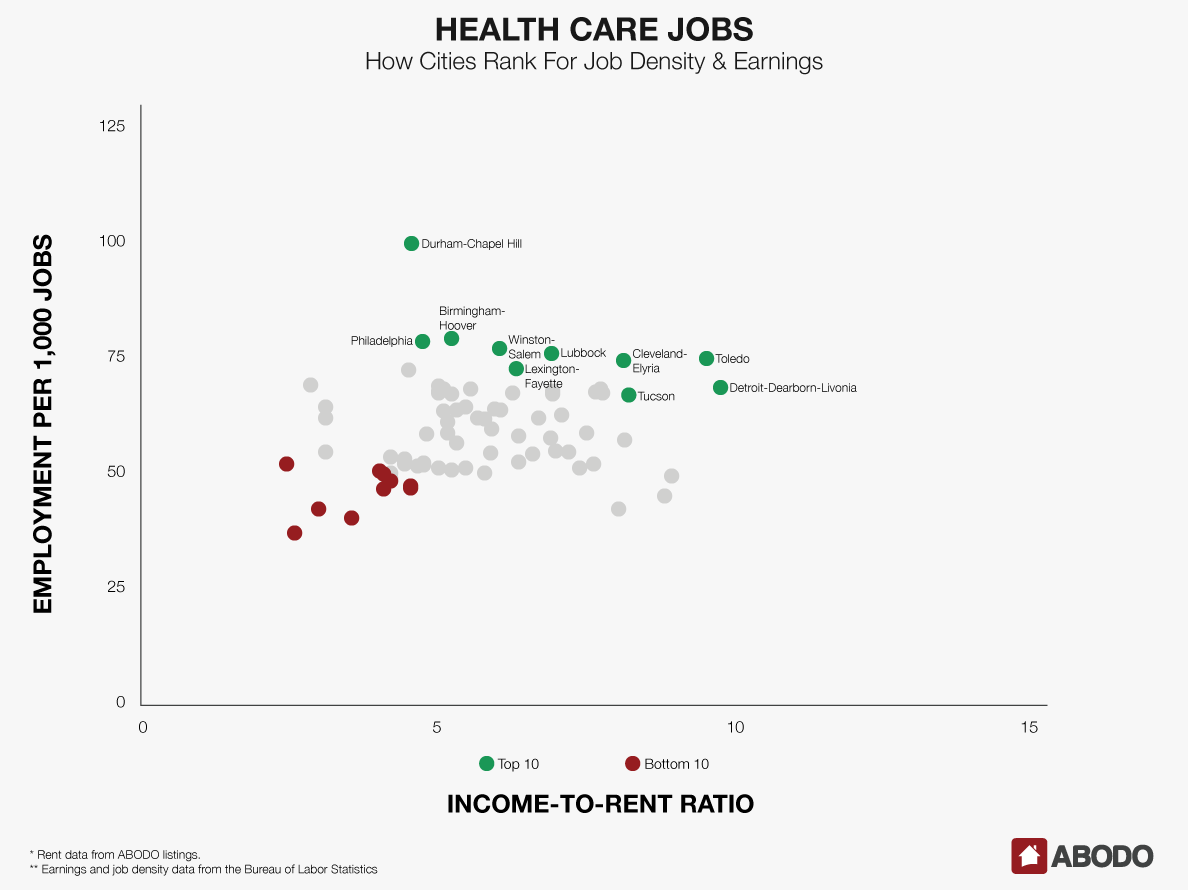 If you're interested in learning more about the information presented by ABODO in this article, check out the full article.
Tags:
abodo
,
healt
,
healthcare
,
jobs
,
openings
,
study
,
US