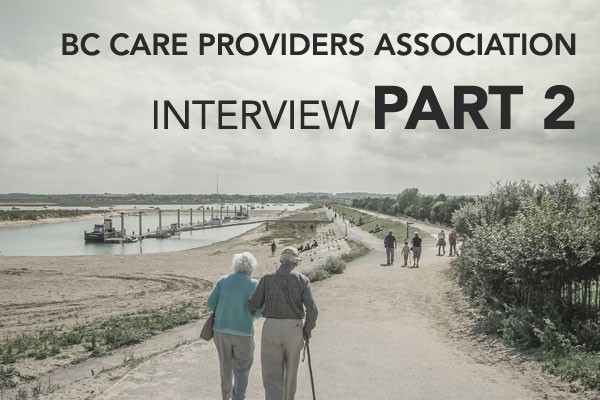 The BCjobs.ca team recently had the pleasure of sitting down with Daniel Fontaine, the CEO of the British Columbia Care Providers Association (BCCPA), to gain some insight on the health and continuing care industry. This is a continuation of the last post which you can read here.
Demand, Pay Scale and the Future
Those thinking of entering the continuing care industry can expect to stay employed in the field for a number of years. They can also anticipate a lot of employment opportunities when they graduate. Listed below are the occupations in the highest demand in this subset of the health care industry with their corresponding pay:
Care Aids – $16/hr to start
Licensed Practical Nurses (LPN) – $23 – 28/hr
Registered Nurses (RN) – $26 – 29/hr
Directors – $26 – 32/hr
Pay scales for nurses depends on unions and years of experience. The wages for registered nurses have been increasing steadily the last few years, and Fontaine anticipates that it will continue to rise. In fact, the gap between a registered nurse and director's pay is narrowing due to the fact that directors are not under a collective agreement and their salaries are frozen.
Education and Career Path
Like any road to an occupation, education is a key factor in entering the industry. In order to start working in one of these top four most in-demand occupations, education is the key to getting started.
In general, all nurses must have at least a Bachelors in nursing, or equivalent, to practice in British Columbia. Fontaine says that many nurses start off as care aids then become licensed practical nurses (LPN), and move up from there. Within BC, there are a number of accredited schools that people can attend to obtain their bachelors in nursing. A list of accredited schools can be found here on the CRNBC website.
So what if you already have a degree in another field? Will it still be valuable if you combine it with a nursing degree? It is Fontaine's personal opinion that having more education will provide you with a broader sense of the world. There is no harm in having another degree before obtaining your nursing degree, however a Bachelors in nursing is sufficient as long as it is obtained from an accredited program as specified by the CRNBC.
Getting Your Foot into the Continuing Care Industry
Continuing care is no different from other industries. If you want a job, you have to go out looking. The first thing Fontaine suggests is attending networking events and conferences to get to know people who are already in the industry. He suggests taking a look at BCCPA events and lunches, especially if you are a student because the BCCPA offers discounted prices for students. Researching the care homes that health authorities subsidize is also a great way to find employment opportunities. Fontaine advises job seekers to call these homes or check their websites for openings to maximize your exposure. Don't forget to look at online job boards! Here are current postings from Fraser Health and Northern Health, and here's a list of other current health care related jobs.
Advice and Last Remarks from Daniel Fontaine
Quick advice for those who are looking to enter the continuing care industry: get trained and educated as soon as possible! Be prepared to relocate; the majority of demand is in more rural areas of British Columbia. And of course, liking seniors and having an aptitude for customer care and service are must-have qualities of any continuing care professional.
For more information on the British Columbia Care Providers Association (BCCPA) visit their website at: http://www.bccare.ca/
Don't forget to sign up for Job Alerts to receive email notifications about healthcare jobs!