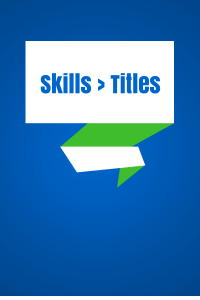 An increasing skill gap in the work force is, of course, mostly due to a greater demand for certain skill sets than the labor market can match.
Career Builder's comprehensive survey of over 2 000 hiring managers suggests another, less obvious, reason. It proposes that many companies are actually adding to this problem with flawed recruiting practices.
In fact, according to the standards reported by this survey; chances are high that you are actually creating a significant part of your skills gap and you just don't know it!
The CB survey was a response to the growing concern by hiring managers that the skills gap is expanding and seriously impacting their recruiting efforts. It found that most of the hiring managers surveyed were severely limiting their candidate pool by only looking at candidates with specific job titles.
Job titles are more often than not a needless limitation, hindering your ability to find perfectly suitable candidates.
Overemphasizing job titles in the hiring process can harm your recruiting in two major ways. It can lead you to disqualify and ignore great hires, and it can decrease application volume by turning off candidates who see a job title in your job ad and assume that they won't qualify because they do not hold, or have not held that title.
I would also like to propose the idea that relying on job titles to inform your hiring decisions can be dangerous because of the inconsistency with which they are used. One companies people solutions specialist, is another's hiring manager, is another's social recruiting strategist!
This problem majorly affects your bottom line considering that 41% of companies say that loss in productivity due to extended vacancy has hurt their bottom line and a quarter of them even report that it has hindered their efforts to expand.
What I'm trying to say is: Skills trump job titles every time.
The main goal when hiring is to find the best candidate for the job, not the candidate with the fanciest title. Focusing on recruiting candidates with the best skill set, abilities, and temperament for the position is the key to effective hiring.
For example, in this article from The Write Solution, Dawn Bugni discusses a client who came to her for help improving his resume. The client was discouraged because although he had extensive experience working with the Navy, he did not have experience as a "Help Desk Technician"; the title of the position he hoped to land.
Dawn went over his resume and asked him to explain to her in more detail what kinds of tasks he had performed at previous jobs, and what skill those tasks required.
She learned that "in his last 18 months with the Navy, he was a Pay Specialist for a Naval Operations Support Center processing payroll for 600 reservists, and handling inquiries from more than 2000 reservists assigned to the center."
She also found that he had more than enough experience with all of the tasks generally associated with the position he hoped to land! And yet many hiring managers would never consider this talented, hardworking and completely qualified candidate based on something as insignificant as a job title.
To get a better idea of just how well qualified this potential candidate was check out Dawn's post here.
Skilled candidates like this one are being overlooked by hiring managers every day.
Don't fall into this trap!
Search for candidates based on their skill set, and you'll expand both your candidate pool, and your business.
Tags:
employee retention
,
hiring
,
hr advice
,
recruitment